Construction Engineering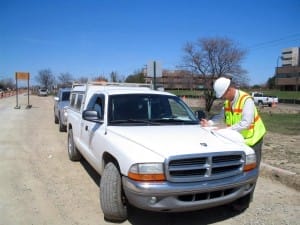 Spalding DeDecker's construction engineering group forms partnerships with owners to observe the construction of infrastructure such as roads, pedestrian pathways, highways, bridges, airports, and utilities.
Engineering Success
Our team has worked with developers, municipalities, counties, states, and the federal government. We understand that our clients have a lot on their minds. Project controls are properly understood, expectations are clear, and responsibility is appropriately assigned. Our track record in meeting budgets, time-frames, and safety consistently results in quality projects with less headaches.
Tech this Out
The Spalding DeDecker Web Portal allows remote monitoring of any project. Updates, daily reports, design plans, communications, and approvals are accessed through this system and become part of the project file.
Many of our engineers have more than 30 years of experience in construction monitoring – including specialized areas of deep sewer and tunnel construction, pump stations, utilities systems, and roadway, bridge, and drainage construction.
Our engineers, contract administrators, and construction technicians are located in field offices or on-site to provide daily supervision and inspection. Our staff is eager to climb bridges, test drive roadways, and make our clients' lives easier – and we are licensed to do so in many states. [link to map]
Construction Engineering Services:
Construction Contract Administration (CCA)
Facilitate Pre-Construction Meetings

Coordinate Project Scheduling
Host Progress Meetings
Coordinate with Public Agencies
Prepare Progress Pay Estimates
Participate in Project Cost Control
Contract Document Interpretation
Construction Claim Negotiation
Prepare Project Close-Out Documents

Construction Observation

Prepare Daily Progress Reports
Witness Quality Assurance Tests
Confirm Project Pay Quantities
Prepare / Review Record Drawings

Construction Staking and Layout
Material Testing Coordination
Soil Erosion & Sedimentation Control Inspection