University of Michigan
Spalding DeDecker (SD) has completed several recent projects at the University of Michigan in Ann Arbor.
Athletic Department Maintenance Facility
SD is currently providing site design for the new maintenance building. The project includes stormwater impacts requiring adherence to both U-M and City Standards, making for a complex stormwater system.
Taubman Library Expansion
SD completed site design for improvements around the Taubman building associated with extensive interior renovations.
Wrestling Facility Water Main
SD completed utility design for new water main extension to serve the new Wrestling Facility. The project required extensive coordination and permitting with the City of Ann Arbor, as well as interaction with OSEH and permitting by the MDEQ for the drain crossing on the property.
Soccer Spectator and Team Facilities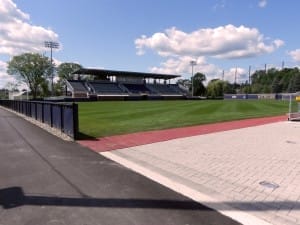 SD completed site design for new soccer stadium. The project included utility extensions to serve the new facilities, as well as stormwater management measures meeting U-M's OSEH standards and the standards of the City of Ann Arbor.
Crisler Arena Player Development Center
SD completed design for site improvements associated with the addition to Crisler Arena. The project involved extensive impacts to existing parking areas and utility infrastructure on the site, as well as requirements to meet UM's OSEH standards for stormwater management.
Crisler Arena Expansion & Renovations – Phase 1
SD assisted the design team in choosing a location for a new fire service line and coordinated new underground utilities using trenchless technologies.
Crisler Arena Expansion & Renovations – Phase 2
SD assisted with determining strategies to accommodate additional stormwater run-off in accordance with new U-M OSEH requirements, as well as complex elevation issues to match into existing grades with minimal disruption.
Pavement Management Pilot Program – North Campus
SD completed a pavement management evaluation and report for the North Campus. The project involved completing an inventory of site features including sidewalk, pathways, campus road pavements, and parking lot pavements. The project also included analyzing the collected data and developing a five-year work plan using CarteGraph PavementView Plus software. 
Ross School of Business – Building Layout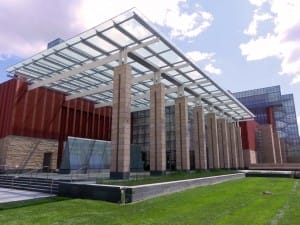 SD provided anchor bolt survey, structural steel layout and plumb survey, and layout to tie structural steel to screen wall. 
Computer Science Building – Building Layout